Thursday, June 29, 2006
Kitty Specials for Tonight...
Mmmm, Dungeness crab for the kitty...psych! Yeah, he sulked for most of the night.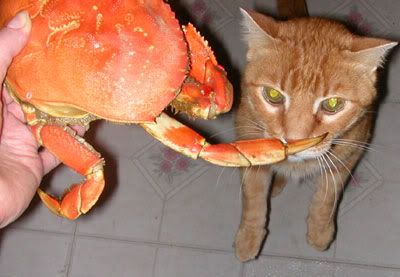 Oh Sweet Diet Pepsi, How I Sing Praises of Thee
From American Heritage Magazine, a fascinating article on the
Origins of Diet Pop
.
Tuesday, June 27, 2006
The Atkins-Compliant 7-Year-Old
I've seen this twice in the past week now...while asking a kid what she'd like to drink, the parent prompts, "Sprite? Pepsi? Lemonade?" Both little girls, no more than 7, said, "Nah...I've had a lot of sugar today. I think I'll just stick with water."
Wow. I was the type of kid who ate sugar cubes.